Pride in Practice Award
Clifton Rise Family Practice received GOLD Pride in Practice award in March 2020 for delivering fully inclusive healthcare services to our patients.
Pride in Practice is a quality assurance support service delivered by LGBT Foundation that strengthens and develops a GP Practice's relationship with their lesbian, gay and bisexual patients. Pride in Practice was funded by the Government Equalities Office. You can find out more via the LGBT Foundation website
Pride in Practice was originally developed in Manchester, where since 2016 it was been delivered to 398 primary care services. The Government Equalities Office has funded the LGBT Foundation to pilot Pride in Practice in NHS GP practices, dentists, pharmacies and optometrists outside of Manchester in London and more rural areas of England.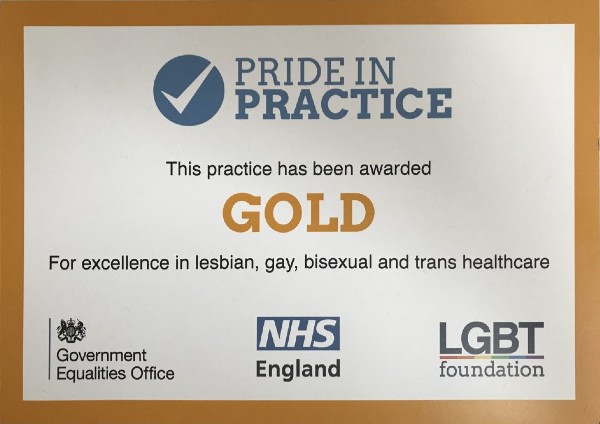 Under the grant scheme 350 primary care organisations, 75% of which are general practices, will be put through the Pride in Practice scheme.
The practice now receives regular LGB resources such as posters and safer sex packs, as well as information on specialist services, including LGBT Foundation's sexual health and wellbeing services, LGBT domestic abuse services and LGBT cancer support groups.
Published: Oct 19, 2020